InkJet Papers
Our InkJet Papers product area includes papers of all leading manufacturers for Inkjet materials as leaf and roll goods. Large selection, reliable, good prices and fast. We advise honestly, detailed and neutral on site, on the phone and by e-mail.
PermaJet's inkjet papers and accessories are suitable for all...
---
Since the mid-1990s, Ilford has already developed and produces...
---
TECCO PHOTO and FINE ART papers are standing for extraordinary...
---
Hahnemühle bietet mit der Digital FineArt Collection und der...
---
Epson Papiere sind so konzipiert, um die besten Ergebnisse mit...
Tecco entwickelt in enger Zusammenarbeit mit EFI – ehemals BEST...
Das beste Druckergebnis mit den richtigen Canon Papiere. Die...
Kunstdruckpapiere in Museumsqualität. Die Canson Infinity...
Various accessories for (further) processing inkjet prints
Top offers
PermaJet FB Gold Silk 315, DIN A2, 25 Blatt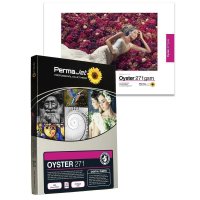 PermaJet Oyster 271, DIN A4, 50 Blatt