Camera accessories
Perfectly equipped for the perfect shot | Camera accessories at FotoMayr
As a photographer, you know that the right accessories for your camera are often just as important for the final result as the camera itself. That's why we offer a wide selection of camera accessories to ensure you are always perfectly equipped.
Our category for camera accessories includes a variety of products to help you capture the perfect shot. From lens filters to shutter releases, hand grips, and viewfinder accessories - we have everything a photographer's heart desires. We also have products to meet specific requirements, such as outdoor accessories or macro photography. But it's not just the variety of products that sets our camera accessories category apart. We also value quality and functionality, so you can be confident that our accessories will always deliver outstanding performance.
Are you looking for a specific accessory that you haven't been able to find anywhere else?
No problem, our range is regularly updated and expanded. We understand that it can sometimes be challenging to find the right product for your needs. But here at FotoMayr, we are here to help. Our experienced staff are available to assist you with any questions or problems you may have, providing personal and individualized advice.
Be sure to also check out other product categories such as camera straps and tripods. Here, you will find everything you need to transport your equipment safely and comfortably.
Bequem und sicher unterwegs mit unseren Kameragurten und...
---
Top offers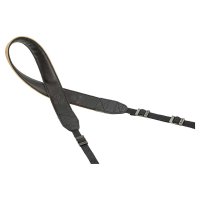 B+W CAMERA STRAP BLACK LEATHER 30 mm